Oh my gosh! Do your students struggle with prefixes and suffixes? Mine do! They get it but then they forget it because they need more practice. I have found my go to, day 1, "once begun is half done" lessons for prefixes and suffixes! I am going to tell you all about it, but first I want to tell you that you can win it! You can win the whole complete curriculum. What you see on my blog is one tiny part, but you can win the WHOLE thing. I want to win the whole thing!
Get Ready for Bloggy Olympics!!!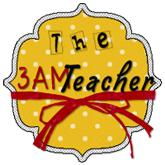 Join The 3AM Teacher, the Reading Olympians, and over 80 SUPREME education bloggers as we take you through a tour of the Reading Olympians Root Study Program!!
The Reading Olympians sent me the prefixes and suffixes lessons from their curriculum to use with my students and I am telling you I am hooked! Look at the adorable materials. I printed, laminated, and put the 35 pages on rings to make a book. This book can also be taken apart and played with in centers!
The book starts by explaining that letters work together to make words. But as you can see below that some letters work together "to hold meaning"
Talk about breaking it down. Can I hear an AMEN!?!


Building our schema for prefixes and suffixes is super important and the girls at Reading Olympians dedicated a page to this. I also had my students stand up and we make a "body connection" . Our body is the parts of the word. We tap our chests for prefix and our backs for suffix. You can also do this for slapping the front of your thighs as prefix, outer thighs for root word, and bum for suffix. This really gets them laughing. I mean they kind of end up giving themselves a spanking they get so crazy, but they make the connection.




The book covers the prefixes re, pre, and un. Now I keep calling this a book, but you all know you can download any TpT file, pull it up in its PDF file form, project it through an LCD, and teach right off the PDF document. Most TPT files are locked down Power Point presentations. So if you think about them in that way, you don't actually have to print this book at all. I like the kids to reread and interact with the book, but that is just me. You do not need to print this.

After reading, playing around, spanking ourselves, and learning we used the page above and the page below to create some words. This will become a center soon too.


The next day we did some independent practice using one of many sheets provided in the pack.




Next week I will work on the suffixes component of this awesome unit!
It carries the same format above and covers the suffixes -s, -ed, -ful, -less, -er, -est. By next weeks my students will be ready to devour the group lesson and center.


This curriculum is so well thought out and put together. I mean seriously! I am really wanting to win this curriculum as much as you want it now. I might have to fight you for it. I am scrappy you know. I think I could take someone down in a fight... maybe not but I could take someone down if they think they are going to get the last maple bar at the doughnut store. THAT IS MY MAPLE BAR is what I am thinking. What I say to my son before they have a chance to order is, " So my sweet little kinderbear we are going to get the maple bar and the sprinkle doughnut?" Now I don't know if they even wanted the maple bar, but they never ask for it because the kiderbear wants it. Verbal Judo people, Verbal Judo. No need to get scrappy, but I will THAT"S MY DOUGHNUT!
OK back to the curriculum that might be as good as doughnuts, keep passing the torch to discover the program in action in other K-6 classrooms. Plus you can win it and other goodies!!!!!!!!!!! So fun!!!!!!!
Discover the program IN ACTION in more K-6th grade classrooms as you Pass the Torch!! Get ideas, discover the progression of the program, and enter the Raffle for a chance to win ONE of the three prizes listed below!!
First Place Winner : Gold Medal
Prizes: Complete Reading Olympians Program
$50.00 Amazon Gift Card
50% off Discount Code for a 1-Day shopping spree at The 3AM Teacher's Etsy store!
Second Place Winner: Silver Medal
Prizes: $25.00 Amazon Gift Card
40% off Discount Code for a 1-Day shopping spree at The 3AM Teacher's Etsy store!
Third Place Winner: Bronze Medal
Prizes: 30% off Discount Code for a 1-Day shopping spree at The 3AM Teacher's Etsy store!
Pass the Torch!!!
Click on the torch to move on.
Kindergarten:
Grade 1 & 2
Grade 3 & 4
Grade 5 & 6
a Rafflecopter giveaway